Time for a CT Scan? No worries: they're relatively simple. Not nearly as scary as laying in a giant MRI machine or as invasive as an esophageal manometry or other orifice probing tests. However, it does come with one big snag…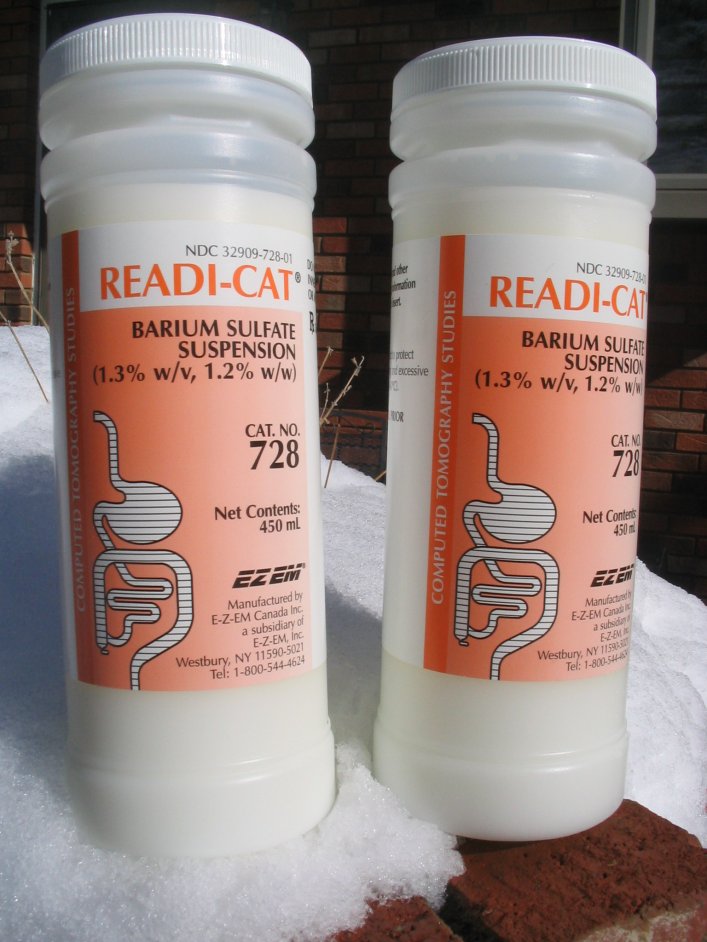 Or, I guess, two big snags. Two giant bottles of barium that you have to chug down before your appointment. It's not fun. But the biggest trick to make drinking these things bearable?
Refrigerate those suckers.  It makes the texture a lot smoother and it goes down much easier. It's the difference between gagging on chalk and drinking a mildly tasteless, if bizarre beverage.
Now, for those with GI issues, this could present a whole other set of problems. Drinking this much liquid at a time, especially liquid as unappetizing as this, can exacerbate your symptoms.  I'd advise talking to your doctor and seeing if drinking the barium is really necessary for the test, or if you can skirt around it.
If it is necessary, then schedule the procedure for a day where you can take it easy and rest. If you have anti-emetics, take them before you drink the wicked potion. They usually work more effectively to prevent nausea than to cure it. Sip slowly — resist that urge to chug it down to get it over with — and,  even if it feels silly, chew the liquid to promote digestion in the rest of your body. Follow it up with some ginger candies or tea to ease your stomach afterwards.
Also, if you feel at all nervous about drinking the liquid,  be sure to take a few deep, abdominal breaths before drinking. This induces the relaxation response and will aid your digestive tract.
The actual CT scan is pretty low maintenance. You just lay there on the table while techs take pictures. You will need an IV placed in order to inject the dye: so if you have a fear of needles you will need to mentally prep yourself. The only uncomfortable part of the test, in my opinion, is when they inject the contrast dye. You will experience a bizarre heating sensation all over your body. You will also briefly feel like you just peed your pants. It is a strange feeling, but not painful, and it passes within a few moments. Remind yourself that you have not peed your pants (I was positive that I had), and that the feeling is only temporary and will soon be gone.
What are your tips for having a CT scan with contrast? Leave them in the comments below!
About the Author:
Leah is a 24 years old suburb-of-Philly native. She has gastroparesis, dysautonomia, a feeding tube, and a battery operated stomach. She is the proprietor of this site, as well as the sassy Disney blog The Magical World Of, and a contributor to the new podcast Media Matters.