Oy. This one was rough.
Good news, though, this test is really only rough if you actually have the condition. Should a healthy person take this test, it'd most likely be pretty mundane.
Unfortunately, unlike the CT scan, I don't really have any tips. I just thought I'd give you a run down of what the test was like, sans medical talk, so you can know what to expect going in.
The only prep instructions they'll give you are to fast for six hours before (that includes stopping J-Tube feeds, too, apparently) and to make sure you have a ride home, because you will feel a bit wonky afterwards.
The first part is your basic outpatient prep stuff. Here's your hospital gown that is designed for a 300 lb man, have fun trying to cover yourself in this 30 degree room.
But hey! They didn't make me pee in a cup this time! That was exciting.
They put an IV in your arm/hand/wherever so that they can give you drugs and saline should they need to. Again, standard stuff. The main difference was that instead of a prep room and a testing room, the whole thing was done in the same room. I was in a small room with a tilt table bed, which looks like this:
It will be flat when you see it/lay on it. It looks like a normal bed except that there will be a foot rest on the bottom for when you have to stand.
There's also a bunch of heart rate monitors and machines that beep and buzz and such. The nurse will get you set up with your IV, strap you up to an EKG machine – which is just a bunch of stickers around your chest – put on a blood pressure cuff, and then they actually strap you to the table like you're Frankenstein's monster.
The similarities are a little eery.
They do, mercifully, cover you with blankets so you don't freeze to death. Then you just lay there for about ten minutes while they measure your heart rate and blood pressure every two minutes and record it.
Or, in my case, you lay there for an hour while you wait for the cardiologist to arrive. Luckily, my nurse was very friendly and we chatted for a while. And hey, they got a really accurate reading of my resting heart rate.
After they measure your bp and heart rate laying down, or when the cardiologist arrives, they will tilt you up to 70 degrees, but it will feel like you're standing upright. Then they watch you and wait for you to faint.
I'm not kidding. They're literally just waiting for you to pass out.
And they'll also, y'know, measure your heart rate and blood pressure some more. They'll also ask you to describe your symptoms. I could always tell when my heart rate jumped – the doctor would ask me how I felt.
"Umm….not pleasant," was my first reply. I thought I'd get a laugh. Instead I got a sympathy croon. Tough room.
The room is dark and quiet at this point, as they don't want any external stimulus to skew the results.  Basically you just experience the same symptoms you always feel when standing upright, it's just that now doctors are here to measure your bodily combobulations and try to figure out why. However, since you're strapped in without any way to compensate – fidgeting, leaning, moving around, talking to distract yourself, etc – it can feel a little hellish.
If, after twenty minutes of this, you still haven't passed out, they will give you nitroglycerin to expedite your symptoms. Although I was extremely uncomfortable, I was still fully conscious, so they gave me the nitroglycerin.
This stuff is devil sauce in the form of a dissolvable tablet.
Immediately my heart began to race audibly (at least to me, strangely no one else could hear it), the room began to spin, my stomach flipped up into my ears, and everything became blurry.
At this point my blanket falls down. Revealing my XXXXL hospital gown gaping wide open and my boobs splaying every which way. Zombie-like, I try to cover up…before I remember my arms are strapped in.
The nice nurse comes and tapes the blanket up for me. I don't know why it was bothering me – they had seen my boobs when they hooked me up to the EKG. But apparently Zombie Leah is very concerned with modesty.
At this point the doctor asks me how I feel. He wants me to talk now? That really doesn't seem possible. I slur out, "Not. Good."
Again, I'm so helpful. The doctor tries again. "What are you feeling?"
"Bad. Things."
And then I passed out.
Or at least, that's what they told me. Weird thing about passing out, you don't realize you did it until someone tells you that you did and you realize that you're now on a table that's much lower than it was before.
If you do pass out during the test, it will only be for a second, because they are ready to go with the saline and some drug-I-didn't-catch-the-name-of-because-I-was-passing-out. That's why they have you hooked up to an IV from the get go.
Whatever this drug was, it was great, because I went from feeling like the human form of molting lava to mildly uncomfortable in about two seconds. The nurse helpfully supplied a cold cloth for my forehead.
The doctor then told me I had a resounding positive on the tilt table test, and started to explain this syndrome I apparently have using big medical words…which is very hard to grapple with when your brain is still marveling at your own consciousness.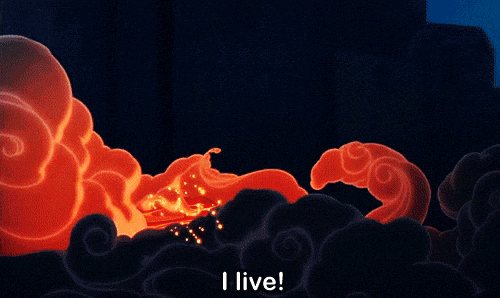 So if you get this test, ask someone to go with you not only for the ride home, but to be in the room when the doctor explains the disorder, because your brain will not be fully equipped to grapple with it at that point.
Also cancel any plans you had for afterwards. You will not feel up to it. I was symptomatic for a few days afterwards, and from what I can tell that's fairly common.
Oh hey! I did have a few tips!
It's definitely not one of my favorite tests, but I've also definitely had worse. And since it gave me some answers I've been looking for, the Tilt Table Test might actually be one of my favorite things. But it's like Schindler's List or Twelve Years a Slave. Really good to experience once. But no way I'm doing that to myself ever again.
About the Author:
Leah is a 24 year old suburb-of-Philly native. She has gastroparesis, dysautonomia, a feeding tube, and a battery operated stomach. She is the proprietor of this site, as well as the sassy Disney blog The Magical World Of, and a contributor to the new podcast Media Matters.