Brain Fog. You know it. You love it. That thing that makes simple words like "display" or "benefit" impossible to reach (those were two words I needed help to say yesterday). That thing that makes you stare blankly at your phone for several minutes before you realize you picked it up because somebody asked you the date.
Brain fog usually accompanies other pleasant symptoms that make you seek recluse in bed…which can get seriously boring. There is only so much TV a person can watch before they start to feel their eyes melting. As a lifelong bookworm, I've really regretted how little I've been able to read since I've been sick. It takes energy and mental wherewithal that the spoonie life just doesn't always allow for. So I've discovered a few hints and tricks to allow me to read despite major brain adfkljadfaf-ness.
1. Kindle
Like all bibliophiles, I once had an unmitigated hatred of all electronic reading devices. It lead to the death of my beloved Borders! Surely, nothing can replace the look and smell of an actual book.
But the kindle allows you to adjust backlight, size, and spacing of the text so that it's easier to read through your fog. Plus, it's a lot lighter and easier to read while hiding under covers.
2. Young Adult Novels
Look, I love me some Austen, and I am determined to get through Infinite Jest ones of these days. But when it comes to brain blergh days? Let's take it a little easy on ourselves, shall we? Young adult novels are much easier for your pea soup brain to comprehend, and thus much more enjoyable to read while you're symptomatic. And some of the best books out there today are young adult novels!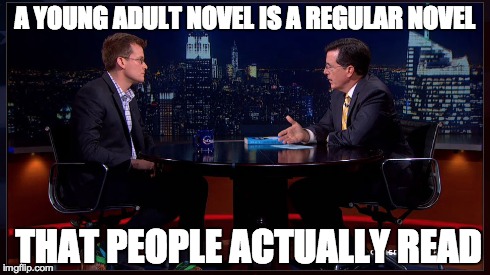 Harry Potter, Hunger Games, The Book Thief, need I go on? There's some quality reads to be had, so get crackin'!
And if you can't find something as high quality as the aforementioned, chances are your brain mush will find something mindless and silly quite enjoyable. I just finished a mediocre book about cyborg Cinderella. It was fantastic.
3. Re-read your favorites
Your brain already knows what's happening, so it's half the brain work of a new read! Plus, you already know you love it. Why not experience it another time? Now, if you'll excuse me, I'll be scaling the Cliffs of Insanity. Again.
4. Graphic Novels
This was a pleasant surprise. Turns out, at least for my brain, the emphasis on images over text makes it much easier for a foggy head to comprehend. I recently discovered this when I decided to finally find out the whereabouts of Zuko's mom (if you don't know what I'm talking about, go watch Avatar Last Airbender because it's fabulous). It was so much easier for my brain goo to comprehend a graphic story than a purely textual one. True, a lot of graphic novels are superheroes and sci-fi/fantasy stuff, but there's graphic novels for almost every genre. Although, being the geek that I am, I'm currently reading Neil Gaiman's Sandman series.
5. Travel Books
I find that the easiest thing to do while brain fogged is to skim books. I do it while reading blog posts all the time (sorry, favorite bloggers, it's not you, it's my crap autonomic system). Now, obviously, this is hard to do with a narrative book because you lose crucial plot points/details. But with travel books, you can just skim through and read the bits that catch your eye. The typical travel guide format of pictures/headers/lists/short descriptions/etc make the book super skimmable and digestable. Plus, it adds a nice element of escapism. Feeling too sick to move? Why not take a mental vacation to Scotland? Or, my favorite, Disney World.
5. Audio Books
When you're just too tired to open your eyes, audio books are a nice respite. I, personally, can't listen to narrative books on audio because I tune out so often, but I enjoy listening to (non-linear) non-fiction books. My favorite so far has been The Pixar Touch — but again, nerd.
Do you have any tips for reading through brain schmoog? Any favorite books you've read recently?
About the Author:
Leah is a 24 year old suburb-of-Philly native. She has gastroparesis, dysautonomia, a feeding tube, and a battery operated stomach. She is the proprietor of this site, as well as the sassy Disney blog The Magical World Of, and a contributor to the new podcast Media Matters.