We're coming to the end of Feeding Tube Awareness Week, and while I did not get to another Feeding Tube Vlog like I wanted to (I will soon, really!), I thought I'd dispel some myths about feeding tubes that I, myself, believed before I got a feeding tube a year and a half ago. I also asked some of my lovely internet people what they thought of feeding tubes, and got some really great questions! So this post will be followed by a FAQ. If you have any more questions, just post it in the comments or message me, and I'll answer them!
But first, let's have a tubie version of….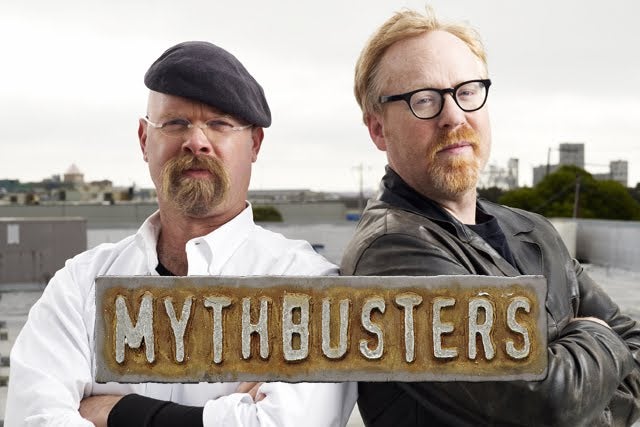 MYTH: A feeding tube is an illness.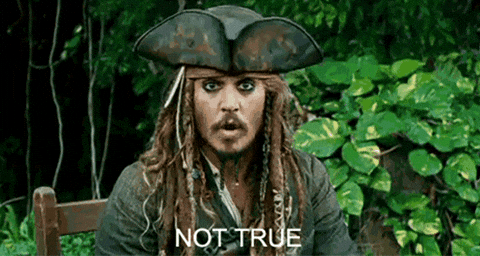 There is a belief that having a feeding tube is a condition in itself. That the very act of having it means you are sick. Don't get me wrong, many people (including myself) who have feeding tubes are pretty darn sick, but that's not true of all tubies. If you have a feeding tube, that does, of course, mean something about your body doesn't work in quite the way it's supposed to, but the feeding tube is there to fix that. It is primarily a medicine. Just like my Zofran or my Atenolol or my compression stockings, it helps keep my body as healthy and functional as possible. My feeding tube certainly causes a lot of issues and makes my life more complicated in many ways, but the reason I deal with all that is because, overall, it makes my life better. It gives me the calories I need. Just like a prosthetic limb helps an amputee, my little Birdie helps me digest food that I wouldn't otherwise be able to. For many people, because of their feeding tube, they are now perfectly healthy.
MYTH: They're big, weird, and scary looking. 
When I got changed with a bunch of friends before a wedding, and I warned them ahead of time the tube was "coming out" in case any of them were squeamish (as I usually do), my one friend commented how "surprisingly normal" my tube looked. And I have to agree! I know before I had a tube I had an image of a large, plastic, unbending tunnel poking out of my clothes all the time. I was wondering if I would have to cut a hole through all my clothes just to wear them. Nope! They're tiny, flexible, and pretty nonintrusive when it comes to clothing. In fact, here's mine!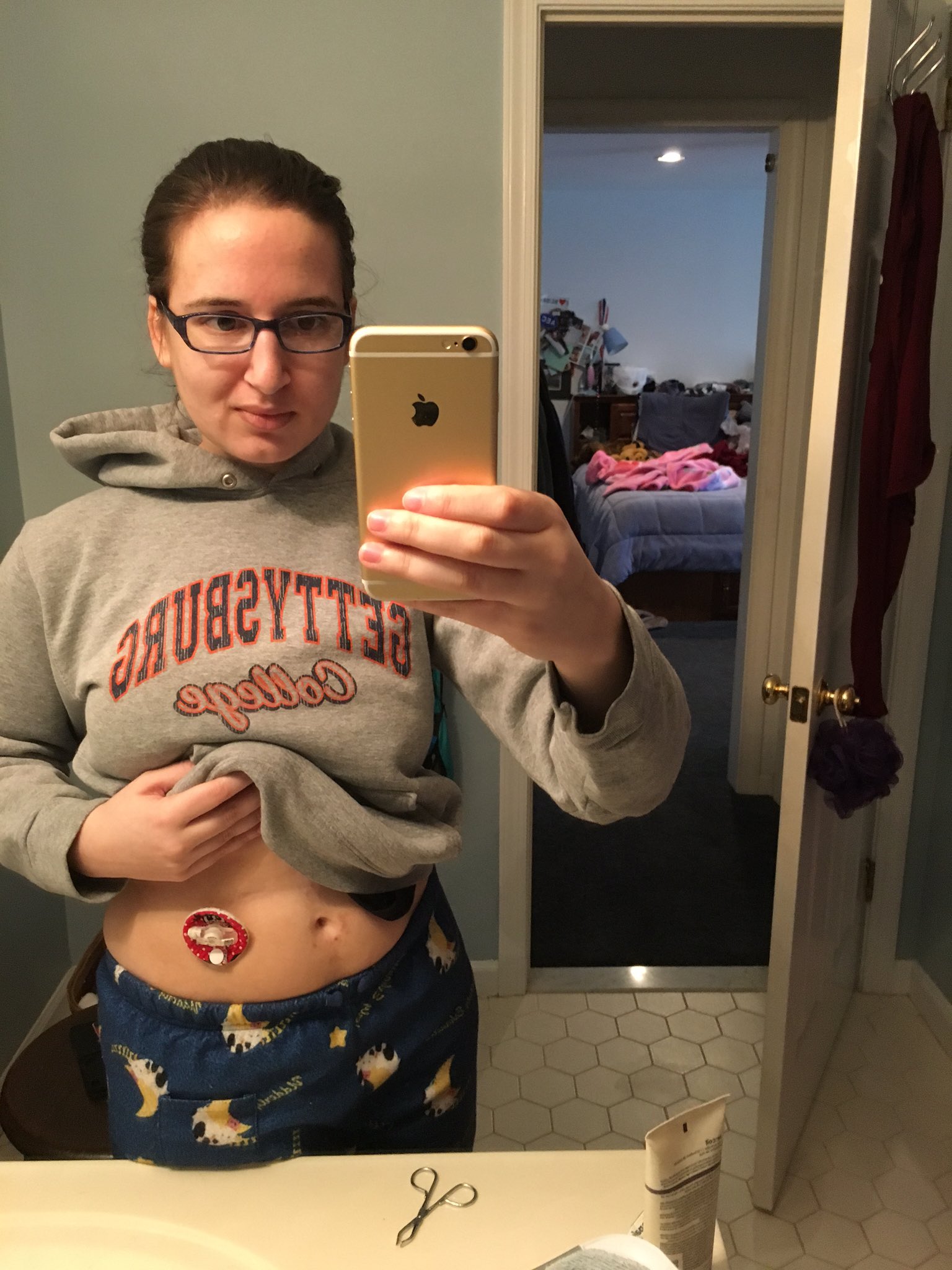 Now, I have a "button tube" which is designed to be smaller and more discreet. Here was my original tube, which was bigger and a bit more cumbersome, but still not the giant pipeline to my stomach that I had imagined before I got a tube.
So yeah, they're not as bizarre and unnatural looking as you probably imagine.
MYTH: If you have a feeding tube, you're not allowed to eat.
Well, this is only half a myth because it is true for a lot of people. Many people have feeding tubes because they either can't tolerate food at all, or because they can't swallow food for cognitive or physiological reasons. But other people, like me, have feeding tubes for supplemental calories. I can't eat enough food in a day to get all the calories I need without getting sick. I also can't pump enough formula through my tube to get all the calories I need in a day without getting sick. So I get some of my calories from oral food (but in a restrictive diet), and the rest from my tube. It's a balancing act, and it's a tough one that I'm still struggling to perfect. But, bottom line, feeding tubes don't always mean the end of oral food.
MYTH: They're only used for end of life care/really old people.
Now, obviously I have a very skewed sample. But all the people I personally know with feeding tubes are in their 20s. On my "adult tubie" Facebook group, there are people of every age group: teenagers, 20s, 30s, 40s, and upwards. And a lot of the information you find online is geared towards parents who need to care for children with feeding tubes. So you get all sorts. Yes, plenty of older people need feeding tubes in their end of life care, but that's only one portion of the Tubie population.
MYTH: Feeding tubes are a one size fits all deal.
Now I'm not referring to the fact that feeding tubes actually come in different sizes (which they do!), but as you can see from the last two myths, the manner in which a person uses their feeding tube varies widely from person to person. Not only are there two major kinds of feeding tubes in the sense that there are feeding tubes that go directly to your stomach and feeding tubes that bypass the stomach and go to your intestine, and not only are there feeding tubes that go through your nose instead of surgically through your abdomen, but people use their feeding tubes in all manner of ways, depending on their specific conditions and body's preferences. Some people bolus their food all at once for a short period of time three times a day, like a person would with their regular meal times. Some people have to have their feeding tubes pumping formula into their bodies 24 hours a day in order to get all their calories. Some people only pump during the day or only at night. Some people never eat food, some people eat some food, and some people bypass their gastric system completely and get their nutrition through their veins (called TPN). The ways in which people approach using their feeding tubes are as varied as the reasons people use them.
MYTH: You should avoid feeding tubes at all costs because they are risky and can easily become dangerously infected.
Okay, infection is always a concern, and hence I always have hand sanitizer on me. But when it comes to the gastric system, you have to be clean, not sterile. And if you do get an infection? As long as you catch it early, a simple course of antibiotics should fix you right up. If you have TPN, which, again, goes through your veins, the risk of infection is much higher and you need to be much more careful. But for enteral feeding tubes? With some basic precautions, you should be good to go.
Stay tuned for my FAQ!
About the Author:
Leah is a 25 year old suburb-of-Philly native. She has Ehlers Danlos Syndrome – Hypermobility Type, Gastroparesis, Dysautonomia, a feeding tube, and a battery operated stomach. She is the proprietor of this site, as well as the sassy Disney blog The Magical World Of.