I know, I know, I promised my next post would be a funny story at my own expense involving zebra hickeys and embarrassing pictures. And I will get to that, because I built this site in hopes of helping out my fellow spoonies, and I will remember my target audience in all future posts. But today I'm going to be a bit selfish and use this lovely wordpress platform to thank a group of people who literally made a dream come true.
Dear Cast of Hamilton,
Hello, hello, hello.  Look, I know, you're already getting a lot of praise for being possibly the only perfect Broadway show in recorded history. Your hype has not died after two years, and the highly snarkalytical media has yet to find a single flaw in your show. Except that we can't take it home with us.  So you certainly don't need more praise from a dorky chick who spends almost all of her time knitting in her pajamas, but that's what you're going to get. Because two months ago, on January 6, you all gave me a gift I will treasure for the rest of my life.
First, the necessary exposition. My name is Leah, and I've been obsessed with theater ever since my Nana played Les Miserables and The Secret Garden for me in the car when I was knee-high to a grasshopper. I actually attended college on a partial theater scholarship, and was trying to figure out what area of theater I wanted to pursue (I was leaning towards comedy writer). Unfortunately, before I could figure it out, I got sick. And I didn't get better. After a few attempts to work and go back to school, I finally dropped out, and after months and then years of diagnostic tests and mysterious symptoms, I finally got an answer: I have a genetic disorder (Ehlers Danlos Syndrome) that basically means the collagen (the "glue") in my body doesn't hold things together quite right, which results in a few problems, the main culprits being dysfunctional autonomic and gastrointestinal systems that leave me perpetually nauseous, fatigued, and lightheaded. I spend most of my time in bed with a little blue box that pumps food into my lower intestines.
I don't tell you this to garner sympathy, because everyone has their cabinet battles. I'm just trying to get across the point that, for the past four years, although I have had a lot of lucky breaks in terms of amazingly supportive family and friends, I've also had a lot of unlucky breaks and a lost life to mourn. I've been struggling to manage my new body and my new life, and figuring out who I am now that almost everything about me has changed.
As a musical theater nerd who has a surplus of time to spend on the internet, I've been following Hamilton since my friend told me about it when she saw a preview at The Public. So, as a birthday gift, the day before it opened on Broadway — i.e. when there were still tickets left — my mom bought me two golden tickets.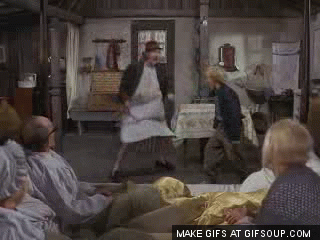 The first time I listened to the Hamilton album all the way through, it was sort of a game changer for me. Of course, I was moved to laughter and tears and general limb flailing like every other human with a heart, two ears, and a Spotify account. And, yes, I randomly text my friends lyrics on the regular. Y'know. Like a normal person.
I've listened to this album many times when I've been too nauseous to lift my head, and it helped take my mind away, Princess Bride style. Because, well, a good story is the best weapon against almost any sort of struggle.
But that's not why it was a game changer in my life. I'd been toying with the possibility of trying to write a book since I've been sick, since it seems the only way I could have a productive job, as I am at the scheduling mercy of whatever my crazy body decides to do at any given day or hour. But I wasn't sure it was an ability I had (and not just because of my penchant for starting every sentence with a conjunction). But (see?) then I listened to Hamilton for the first time, and that killer line, "Who lives, who dies, who tells your story?" rattled in my head. The reveal of the power that Eliza had when she preserved and told Alexander's story, and the fact that history ignored her substantial contribution to our country until Rob Chernow and Lin Manuel Miranda came along, shook me to the very center of my malfunctioning stomach. A fizzle that had been sitting in the back of my head for a while was brought to the forefront, and I decided I wanted to start writing young adult historical fiction novels about the women who have affected history but have been ignored or forgotten. Because how we tell young people history shapes so much of our cultural identity and our lives. And this show was the thing that drove that idea home for me. So that's what I'm working on now. Slowly. Because, y'know, broken body. But hey, I'm willing to wait for it.
That realization, of the force that I could still potentially have as a storyteller, even from my bedroom, was enough to earn my undying love and devotion. But two days before I was going to make the trip into New York to see this show (which, to put it in "chronic illness" vernacular, was going to cost me about a month's worth of spoons), I got a text from one of my best friends, saying that she thought she could get me backstage at Hamilton, because her mentors' son is close friends with Daveed Diggs. So after suppressing a major fangirl attack, I immediately did what every 20-something would do in this situation: I knitted. I mean, I'm always knitting; it's my favorite chronic illness coping device. But I figured if I was going to get backstage through a friend of a friend of a friend of a friend, I better at least bring a party gift for the host.
So the amazingly generous friends of my friend got my name on a list to go backstage of Hamilton and say hi to Daveed Diggs. Note to people about to meet anyone you intensely admire: plan what you're going to say before you meet them, because you will be lobotomized and lose all sense of how human conversation works.
When you meet your heroes like "I swear I'm not an idiot. I just play one in life." 🙈😍🤓@HamiltonMusical

— Leah | Spoon Shares (@spoonshares) January 6, 2016
So after seeing this incredible show and crying my eyes out at the finale (and, despite my shamefully high levels of fangirl, that's actually not easy to do), my friend and I wheeled on over to the stage.
A nice, official looking man told me that Daveed would be out to see us shortly while my even nicer but less official looking friend fought with my wheelchair on the steep steps (Thanks, Billy!). Which was pretty damn surreal. Also, when you're on the list of "people who have come to say hi," but you don't actually know any of the actors, you're basically intruding on conversations between actors and their family/friends during their break (it was a two show day). I felt like we had just crashed a White House party and we were going to be removed at any moment once we were found out. Yet everyone was so welcoming and gracious towards this awkward, babbly girl with a feeding tube coming out of her shirt (Side note to my fellow tubie readers: the dilemma of whether or not to turn off the pump during a movie/live performance will be a future post!). As promised, Daveed came out, unassuming and casual, the opposite of the personas we had just witnessed him play on stage, and I mumbled and handed him the hat, and then just kind of stared blankly and rambled incoherently. Because….
Part of my autonomic disorder means that my body inappropriately responds with an excess of adrenaline at the slightest provocation.
Hamilton is enough to pump the adrenaline on overload for a normal human, let alone one as overly dramatic as mine.
Seriously, my heart rate was at about 120 bpm during "The Room Where It Happens." Give Leslie Odom Jr. all the Tonys.
Leah's body (whom I have named "Jerry" after the Parks and Rec character) likes to overreact to excess adrenaline — ironic, since the adrenaline is, in itself, an overreaction.
Jerry had also been horizontal about 5x longer than it usually likes to be at one time.
All of this resulted in my favorite symptom: brain fog. Brain fog is like having a card catalog for a brain and then suddenly all the cards disappear. I like to refer to it as a perpetual brain fart (you can see why I refer to the dysfunctional parts of my body as "Jerry").
I was also really star struck. I joked with my friend afterwards that if Emma Stone had been there, I would have asked her to take a picture of me and Lin.
That show left me speechless. Normally, after I see a show, be it Broadway, student theater, or PBS recording, I have a million things to say, good or bad. But I had no words after this show. It had knocked the wind out of me (in an amazing sort of way).
I was just really star struck, ok?
This all resulted in a perfect storm of Leah being uber tongue tied and scatter brained. I think the only words I managed were repeated variations of: "That was amazing," "Sorry, I'm not usually this bad at words," and "Please sign my playbill."
Really glad I found the words for that last bit, though. This baby is framed and on my wall forever now.
Here's where I get to the crux of why I'm writing this. You, cast of Hamilton that I was so fortunate to meet: Okieriete Onaodowan, Jasmine Cephas Jones, Daveed Diggs, Renee Elise Goldsberry, Lin Manuel Miranda, and Leslie Odom Jr (that was the order of my memorable interactions with each of you), were so incredibly kind to this obnoxiously tongue-tied girl in a wheelchair, kinder than you really needed to be during your break time. You each looked me into the eye, asked my and my friend's name, shook our hands, and signed my playbill. I gave Renee (who plays my favorite character in the show) a "Yay Hamlet" hat that I made, and she was so enthusiastic about it that I had the courage to ask her for a picture, which her kind friend took for us.
Lin even recorded a video message on my phone for my spoonie bestie at my request. And he did it without a moment's hesitation after I asked him.
It's difficult to describe to someone without chronic illness just how logistically and physically difficult it was to make that trip and recover from it (shout out to aforementioned supportive family who helped make it happen — love you Dad!). Suffice it to say, it took a lot out of me. But I would do it 96,000 times over again, because it was such an incredible memory and experience, and it's a story that will get me through a lot of symptom-flare-days in the future.
So, thank you, cast and creators of Hamilton, for the gift that is this show, and thank you to Richard, Kathy, and Bill, who made a phone call for a complete stranger, to Tree for putting the whole thing into motion in the first place, and thank you, thank you, thank you, to the kind and generous cast members who talked with me and made a priceless memory.
Okay, I realize this is starting to sound like an Oscar speech that I'm collecting for literally seeing a Broadway show, but I just wanted to acknowledge that this was a life highlight for one person that was possible because several people decided to be truly kind and generous. And I think that's pretty cool. Everyone knows by now that you, Hamilton cast and crew, are absurdly talented artists. I just wanted to take this cyber opportunity to tell you and anyone else who might be reading (Hi, Mom!) that you're also just really nice people. Thanks for that. You all blow me away.
Forever a fan,
Leah
About the Author:
Leah is a 25 year old suburb-of-Philly native. She has Ehlers Danlos Syndrome – Hypermobility Type, Gastroparesis, Dysautonomia, a feeding tube, and a battery operated stomach. She is the proprietor of this site, as well as the sassy Disney blog The Magical World Of.